Last Friday (11th November) the Oberschule celebrated the official opening of the new Learning Centre.
The event included poetry by Lewis Carroll and Roald Dahl and an inspirational speech by Martin Luther King.
The S4 L1 French students performed excerpts from famous autobiographies by Alexandre Dumas, Marcel Proust, Marguerite Duras and the 2022 Nobel Prize for Literature: Annie Ernaux. The S5 students performed extracts from 19th century texts: Zola (J'accuse, Nana, Germinal), Flaubert (Madame Bovary), Hugo (Les Misérables), Maupassant (Le Horla).  ".
S2 sang 'Ode an die Freude'.
Herr Gassner and Frau Santos spoke of the importance of reading and how the space will promote independent and group learning besides other teaching activities. They then cut the ribbon to officially open the Centre.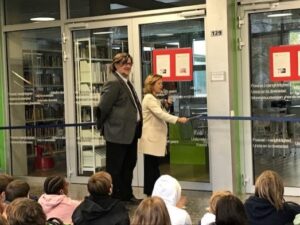 The whole event was accompanied by the Bläserklasse who began by playing the European Anthem.
We are very proud of our Learning Centre which will foster good learning/studying practices and encourage our students to read, research and think for themselves.
Many thanks to Ms. Maguire for organising the event and for the support of Ms. Le Gall, Ms.Thomson, Ms. Sheath, Herr Escaratez and Herr Braun.