Menu
Every day a freshly prepared hot meal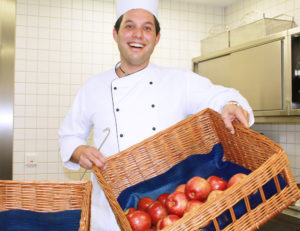 A well balanced diet can support pupils´ learning. So that you know that your children are well cared for, we have developed with Scolarest a "canteen concept" that offers a varied meal daily.
You can preorder your meals here 
The FOOD CLUB
Since September 2009 Scolarest with its unique concept, the FOOD CLUB, has offered lunches
in the European School Karlsruhe.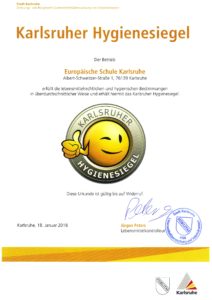 Scolarest  together with EUREST Deutschland GmbH are controlled by the Compass Group and are nationally and internationally very successful. It is certified by DIN EN ISO 9001:2000.
A food specialist developed the concept of the FOOD CLUB involving young people. Variety, quality and taste, without the use of flavour enhancers are its strong points. The diet meets the requirement of the German Society for Nutrition. Every day Scolarest cooks in the school kitchen with fresh ingredients.
Presentation of the FOOD CLUB
Easy, fast and cashless
To ensure speedy payment an electronic system has been set up. You can pre-choose menus and order online. The school identification card also serves as the canteen access card. You can find the exact procedure on the following site.
Cashless payment for students
We offer cashless payment. Once registered, children can order lunch via the Internet from home or at the school terminal.
You can order weekly or every 14 days. Changes or cancellations e.g. due to illness can be made through the system the same day, till 08.30 a.m.
| Prices are | Price per meal with reservation | Price per meal with no reservation |
| --- | --- | --- |
| Lunch, normal or vegetarian | € 4,05 | € 4,55 |
| Kindergarten | n/a | € 3,20 |
| Salad | € 3,60 | € 3,70 |
| Soup with bread or roll | € 2,60 | € 2,80 |
Children who spontaneously decide to eat, can also come to lunch without reserving and pay with their  existing school card. A menu order or payment is only possible with sufficient credit! In addition to online banking, you or your child can charge the card at the charging station in the canteen. Cash is not accepted.
How can I order food in future?
The menu is available on the Internet under the following address:
You will receive your personal User Name and your password by mail.
How to pay?
Payment has to be made in advance (e.g by standing order) paid to the following bank account:
Kontoinhaber: Medirest GmbH & Co OHG
Kreditinstitute: Sparkasse Karlsruhe
Bankleitzahl: 66050101
Konto Nummer: 108099185
IBAN: DE17660501010108099185
BIC: KARSDE66
Contact person