The S6 and S7 Theatre students presented 'Alice in Wonderland' on Tuesday 9th May to primary and secondary students (matinée) and to parents (evening performance).
The production was the result of many months of hard work and was a resounding success.   24 students took on the roles of actors, production technicians, scenery painters, stage managers, costume designers, prompters, and prop finders to create a magical world on stage.   The audience was entertained and impressed.  The following students deserve special credit:  actors Sarah Lesser, 6D, Jennifer Mayer-Reibel, 6D and Marlene Schneider, 7D (our 3 Alices), Lisa Ispas, 6E (the Queen of Hearts), Elena Johnson, 6E (the Duchess), Benjamin Hans Paine (various roles), and the production manager, Byron Springer 6E, who spent many hours in the Aula to ensure seamless lighting and sound effects.
The performances were hugely enjoyable.  Many students commented that they gained confidence on stage and that their speaking skills in English improved.  The final performances reflected teamwork and talent!   The Theatre Course is a 2 period BAC option, currently taught by Mrs Thomson and Mrs Maguire.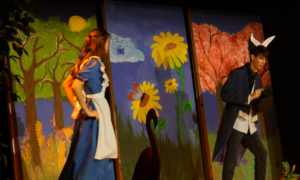 Alice and the white rabbit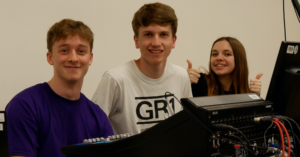 The Production team